Low Voltage Fusegear
"Fuse Carrier"
Moulded from high impact glass reinforced polyester material, which is inherently flame retardant and posses an electrical tracing resistance >600 (CTI).
Standard shrouded through grip Carriers are provided for phase connection/isolation.
200/400A and 630A options are available.
Heavy Duty Cutouts
WT Henley has designed and manufactures a choice of 2 four pole insulated Heavy Duty Cutouts.
Designed to accept BS 88 'J' type fuse-links, both these products are suitable for use with stranded / solid copper or aluminium conductors with conductors from 95 - 300mm².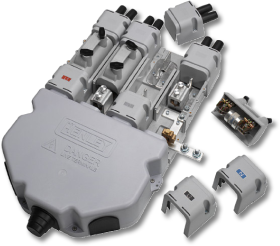 "Heavy Duty Cutout"
Heavy Duty Cutouts
"Protection Chamber"
Christmas and New Year Holiday closure
Please note that we will be closed over the festive period, from close of business on Friday 21st December, until we re-open on Wednesday 2nd January 2019. close.
WT Henley has moved!
Please note that we have now relocated to our new site on London Medway Commercial Park, Hoo. close.