Low Voltage Fusegear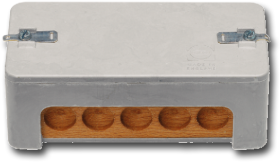 "Insulated Connector Box"
Our Connector Boxes are all designed to accept copper conductors, whist types 2 and 3 can also be used with aluminium.
With the exception of our smallest model (type 1) which is manufactured in nylon, the rest of our highly successful range is manufactured in our own formulation tough, arc resistant grade of Glass reinforced polyester (DMC).
Insulated Connector Boxes
WT Henley has designed and manufactures a comprehensive and popular range of Insulated connector Boxes for a variety of applications and situations.
"Insulated Connector Box"
Christmas and New Year Holiday closure
Please note that we will be closed over the festive period, from close of business on Friday 21st December, until we re-open on Wednesday 2nd January 2019. close.
WT Henley has moved!
Please note that we have now relocated to our new site on London Medway Commercial Park, Hoo. close.