Subsea Cable Accessories
Special Products
Our product range includes specially designed pulling heads to ensure that torsionally balanced cables safely reach their destination (at the platform) as well as temporary and permanent armour clamps.
Other products include explosion proof cable termination boxes, 'J' tube bungs and bend stiffeners.
Bespoke Engineering Solutions
The name WT Henley has been synonymous with Subsea Telegraphy and Power Distribution since the company was founded in 1837.
We have an impressive track record of supplying many of the world's largest Utilities, Gas and Oil majors with specialised subsea cable accessories, essential to enable the installation and maintenance of Subsea power and communication distribution systems.
WT Henley is fully audited and approved to ISO 9001: 2008 under certificate number 11261. We can draw on a wealth of knowledge and experience in the design of Subsea cable accessories and the full backing of our team of design engineers further complements this.
Armour Termination Hang off
Once installed and at the top of the 'J' tube the cable is mechanically secured by the installation of a hang off clamp. The cable armour is terminated within a clamping arrangement that ensures the mechanical stresses expected to occur during service life are safely borne by the cable structure. Where appropriate, Cable hang off's can be supplied combining core breakout and/or jointing to topside cable.
Other Accessories
In addition, WTH can provide the full range of accessories required to enable the successful installation and operation of a full range of Electrical or Composite Electrical/Optical Submarine Cables and Umbilical's including
Beach Clamps
Beach/Transition Joints
Bend Stiffeners
Bend Restrictors
Typical Products
Pulling head
To enable the safe installation of the cable to the platform or riser deck, WTH have designed a pulling head which connects directly onto the cable armour layer(s). This ensures that all mechanical forces associated with pulling the cable via the 'J' or 'I' tube are borne by the armour with minimal transference of strain to the underlying components.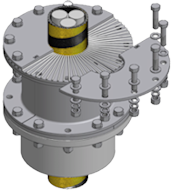 Christmas and New Year Holiday closure
Please note that we will be closed over the festive period, from close of business on Friday 21st December, until we re-open on Wednesday 2nd January 2019. close.
WT Henley has moved!
Please note that we have now relocated to our new site on London Medway Commercial Park, Hoo. close.